The best choice for your children's feet
We believe that barefoot shoes are better for everyone – that's why we want to get kids off on the right foot and start their barefoot journey as soon as possible.
Better for little feet

We make what's known as 'barefoot' shoes, which provide a more natural fit and a thinner, more flexible sole so that feet can move and develop as they were meant to.

Just for kids

Unlike others, our shoes aren't just a mini-version of an adult range. We've designed our shoes especially for kids, thinking about everything from fun colours to making it easier for kids to put their own shoes on.

More affordable

We only sell our shoes online. Without the overheads of a high street shop, we're able to bring the cost of barefoot shoes down while keeping the quality high, with great customer service, too.
Regular shoes

This is an average shoe that you've probably purchased for your children or worn yourself, trusting that they were fit for purpose. In fact, they could be deforming feet, which can then cause problems in your knees, hips and back. Even if you go to a high street shop and get feet measured for length and width, toes can still be squashed and restricted due to the general design of non-barefoot.

Barefoot shoes

Here's an example of our barefoot shoes! As you can see, the toe box has been manufactured to be considerably broader and follow the natural shape of the foot, allowing feet to develop more naturally without constraints. Less squashing, less discomfort – just healthy, comfortable feet.
The science behind barefoot
Over millions of years, our feet evolved to be the perfect tools for running, jumping, climbing and walking. But the shoes we're used to wearing have stripped our feet of their strength, balance and dexterity by providing cushioning we don't need, a thick stiff sole stopping our feet from moving as they should, and by forcing our feet into shapes they weren't meant to be in.

The solution? Barefoot shoes, bringing our feet as close to their natural state as possible.
Learn more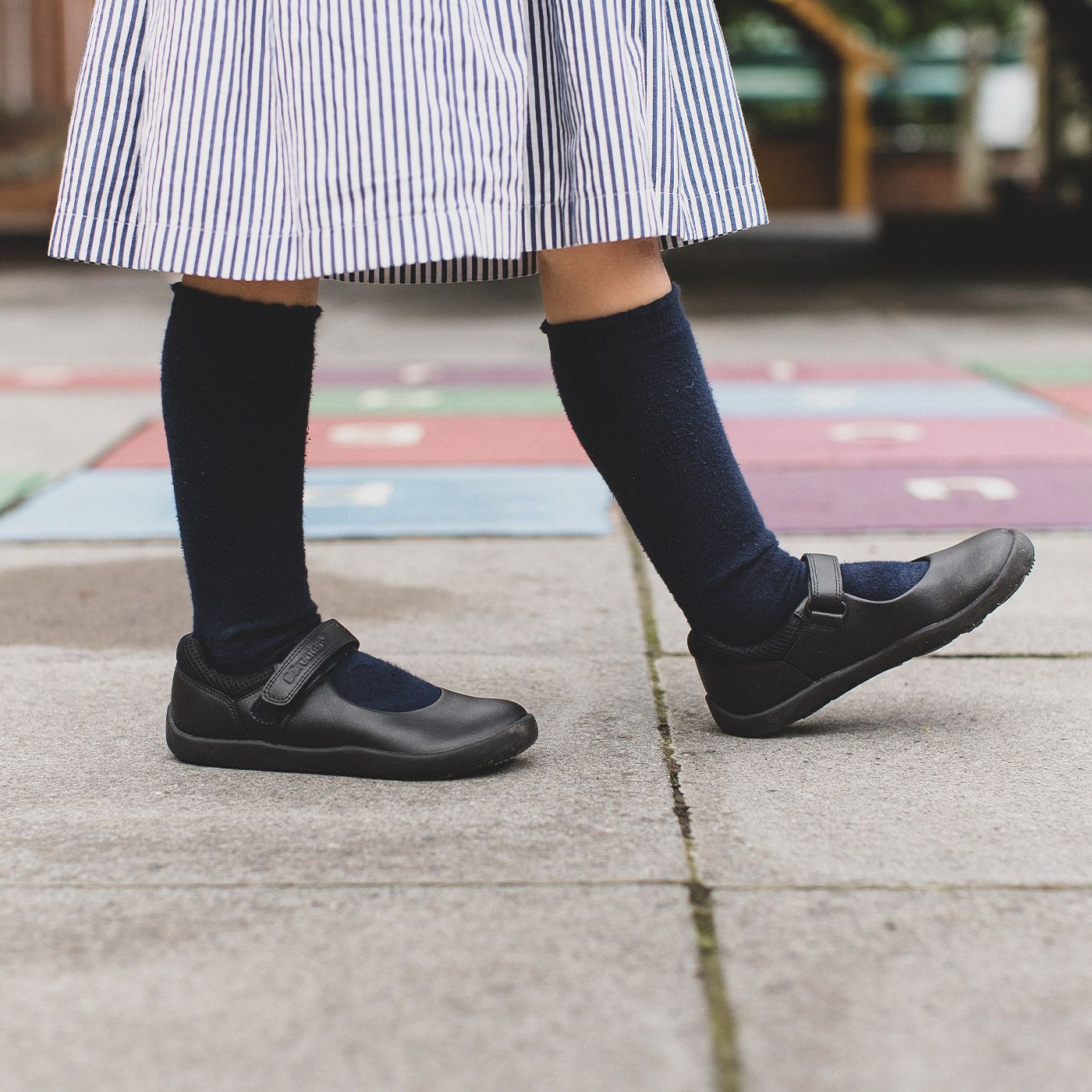 Founded by parents, for parents
I'm Iain, founder of BGreater, and like most parents, I want the best for my two children. After my own rehab and wellness journey educated me on foot health and barefoot shoes, I took what I'd learnt and used it to support my children's health. Unfortunately, the market didn't have what I was looking for, especially at a price I could afford. So, I took it upon myself to create shoes that wouldn't deform my children's feet, cost the earth, and that looked and felt like they were made for kids.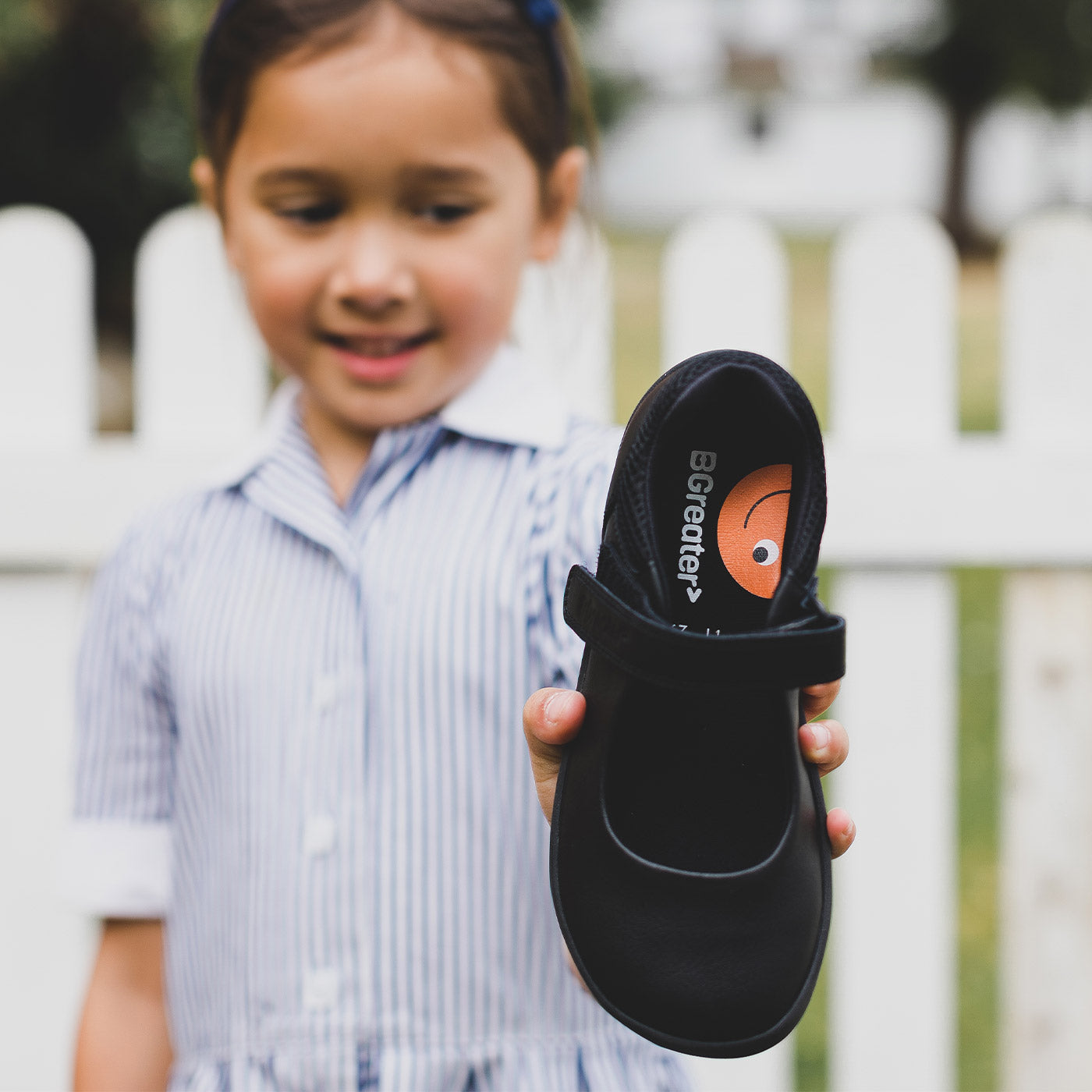 Passionate about foot health
We believe there is a silent foot health epidemic going on – more and more people need orthotics or complain about how sore their feet are after a full day standing. That's why we want to help children's feet get the best start possible and benefit from all the good things barefoot shoes can bring.
FAQs
Got a question about barefoot shoes, fitting, delivery or returns? We've answered some of the most common ones in our FAQs. If you can't find what you're looking for, get in touch.
Read more
When you check out, you can choose to add a small donation to your purchase. This money is then ring-fenced and set aside to support Sal's Shoes, our chosen charity.

When we've collected enough to cover the cost price of a pair of shoes, we'll donate a pair to Sal's Shoes, helping disadvantaged children to move naturally.

You can also return old BGreater shoes, where the tread is worn out but the uppers are in good condition, to be retreaded and donated.